Meet Dr. Janjua – a Top Alarplasty Surgeon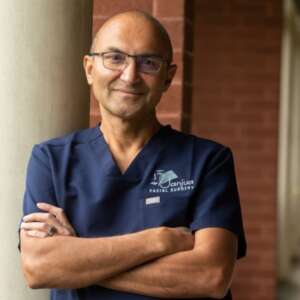 Dr. Janjua is a board-certified facial plastic surgeon. He was trained in Otolaryngology – Head and Neck Surgery – at Yale University. Dr. Janjua is an alarplasty surgeon specializing in nostril reduction surgery
He then did a fellowship in "Facial Plastic and Reconstructive Surgery" in California under the auspices of the American Academy of Facial Plastic and Reconstructive Surgery.
Dr. Janjua is Board Certified by the American Board of Facial Plastic and Reconstructive Surgery as well as the American Board of Otolaryngology – Head and Neck Surgery.
He has authored numerous papers in prestigious medical journals, as well as chapters in textbooks. He also has presented at international meetings.
Dr. Janjua won the Storz national award for designing an instrument used to correct droopy eyelids.
He is Board Certified by the American Board of Facial Plastic and Reconstructive Surgery as well as the American Board of Otolaryngology – Head and Neck Surgery. Dr. Janjua remains active in clinical research.
He is the past president of Somerset County Medical Society and recently was elected to the Board of Morristown Memorial Hospital.
For more information on nostril reduction surgery or to schedule an appointment, contact us toll-free at 877-JANJUA1.
Our location in Bedminister, NJ is within a convenient distance from Morris, Hunterdon, Somerset County, New Jersey, and Philadelphia and New York.
How to Choose the Best Alarplasty Surgeon
Choosing the best alarplasty surgeon is crucial for achieving the desired results and ensuring a safe procedure. Alarplasty is a surgical procedure that focuses on reshaping the nostrils, and it requires skill and expertise. Here are some steps to help you find the best alarplasty surgeon:
Research Surgeon's Credentials: Start by researching the surgeon's credentials. Look for board-certification in plastic surgery or facial plastic surgery. Board-certified surgeons have undergone extensive training and have demonstrated their expertise in the field.
Experience: Consider the surgeon's experience in performing alarplasty specifically. Ask how many alarplasty procedures they have done, and request before-and-after photos of previous patients to assess the quality of their work.
Referrals and Recommendations: Ask for referrals from friends, family, or trusted healthcare professionals who may have had a positive experience with a surgeon or know someone who has.
Read Patient Reviews: Look for patient reviews and testimonials online. Websites like RealSelf or Healthgrades can provide valuable insights into other patients' experiences with a particular surgeon.
Consultation: Schedule consultations with potential surgeons. During the consultation, discuss your goals, ask about the surgical techniques they use, and address any concerns you may have. Pay attention to how well the surgeon listens to you and explains the procedure.
Facility Accreditation: Ensure that the surgeon operates in an accredited surgical facility or hospital. Accredited facilities adhere to strict safety and quality standards.
Safety Precautions: Inquire about the safety precautions the surgeon takes during the procedure. Safety should always be a top priority.
Communication and Trust: Choose a surgeon with whom you feel comfortable and can establish a good rapport. Trust is crucial in any surgical procedure.
Check for Malpractice Claims: Research whether the surgeon has faced any malpractice claims or disciplinary actions. You can check this information on your country's medical board website.
Cost: While cost should not be the primary factor in your decision, it is essential to consider. Be wary of unusually low prices, as they may indicate a lack of experience or shortcuts in quality.
Personal Connection: Lastly, trust your instincts. If you feel uneasy or unsure about a particular surgeon, it may be best to continue your search for someone you feel confident about.
Remember that alarplasty is a surgical procedure, and choosing the right surgeon is crucial for your safety and the success of the outcome. Take your time to research, consult, and find a skilled and experienced surgeon with whom you feel comfortable and confident.
Dr. Janjua's
Awards & Certificates