BEST SURGEON FOR ALARPLASTY AND NOSE SURGERY
Dr. Janjua is a top national authority on alarplasty and nose surgery procedures.  He is a Yale-trained, board-certified nose surgeon.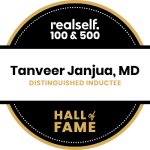 His aim is not just to perform procedures, but to educate patients and have them leaving the office happy with their brand new look. Our patient reviews say it all.
Our location in Bedminister, NJ is within easy access from Morris, Hunterdon, Somerset County, New Jersey, and Philadelphia and New York.
For more information on face lift surgery or to schedule an appointment, contact us toll-free at 877-JANJUA1.
Patient Reviews
What Our Patients Say...
Dear Dr. Janjua,
Today was the first time I did FaceTime and loved the image of myself that I saw. I love my new nose it is literally what I've always dreamed for. (more…)
I went to Dr. Janjua to have an alarplasty done. During the first consultation, he told me he didn't think the procedure was necessary for me and suggested I ask around for other doctors' opinions.
(more…)
Mi experiencia fue buena. Excelente Doctor. En la clínica hay personal que habla español, me sentí segura, me explicaron bien todo.
I've made a year since my Alarplasty and I don't regret it one bit. Dr. J did a fantastic job. I love my results and the scarring has improved over time. Some times I forget I even had it done. (more…)
Alarplasty was wonderful with Dr. Janjua. The best! No pain, nothing, totally different look for me. I love it, I love it, and I love him. He's the best doctor ever. (more…)
Dr. Janjua is the best. I had an alarplasty done by Janjua. he made my procedure and healing process so easy. I called him for further aftercare advice and always got the help I needed. I can't wait until my second procedure in January.
I did my research and found Dr Janjua. I felt very comfortable with him after our Factime session and decided to have the surgery. I traveled from VA to NJ and I'm so happy I did. (more…)
I had been researching alarplasty since high school, because I always hated the way my nostrils would flare out. I didn't want to change my nose too much, I just wanted to make it better (if that makes sense?). (more…)
From The
FACIAL SURGERY BLOG
Recently, I had someone come from the United Kingdom for Alarplasty. I asked him the question, "What made you come from England to Bedminster, New…
Dr. Janjua's
Awards & Certificates